Welcome to the Statesboro Area
Society For Human Resource Management
2016 Chapter of the Year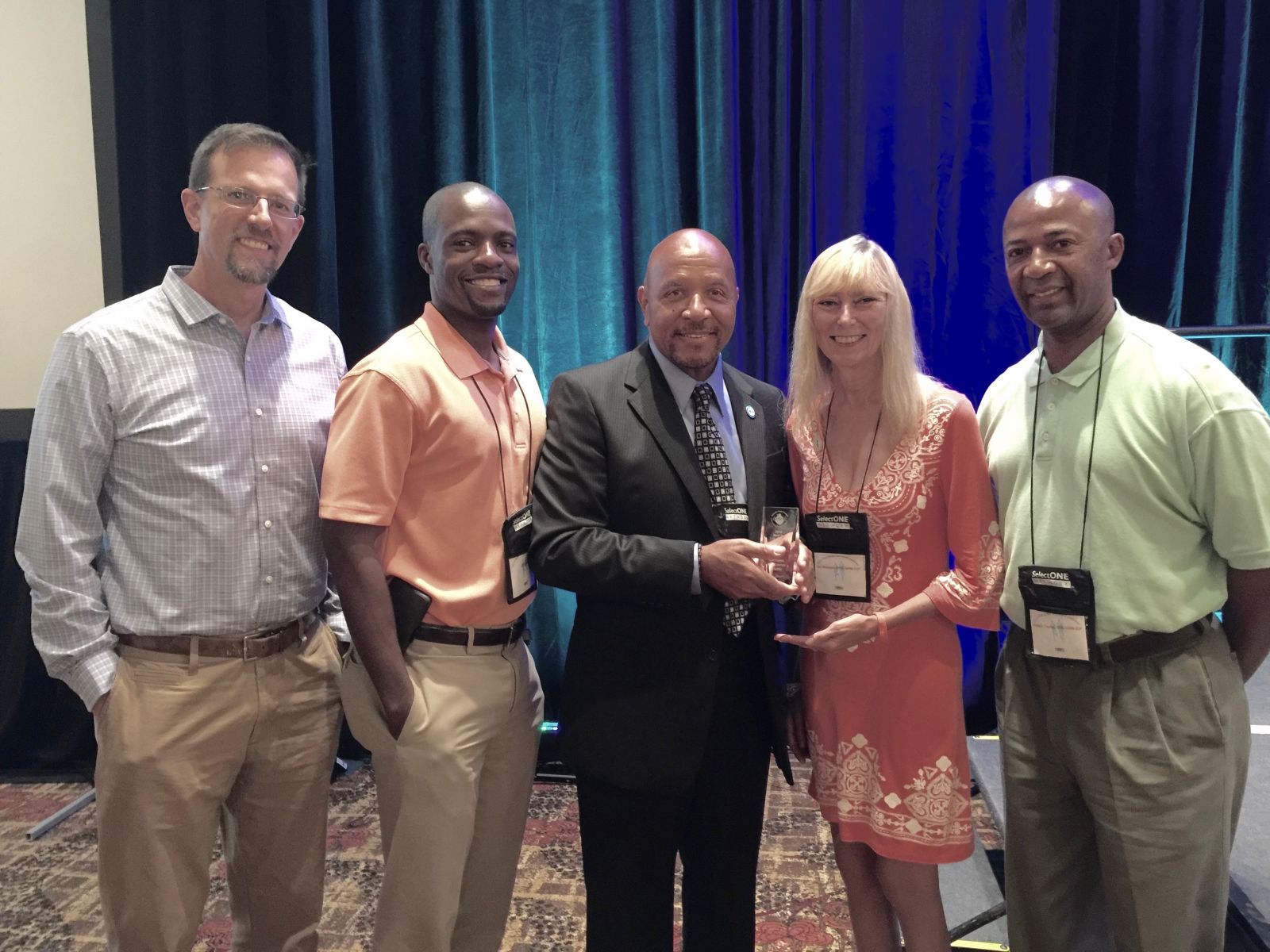 Statesboro Area SHRM Wins Best Chapter Award at State Conference
(Statesboro, Georgia) – The Statesboro chapter of the Society for Human Resource Management, Statesboro Area SHRM, was selected as the "2016 Best in Georgia - Chapter of the Year" at the recent Georgia State SHRM Conference held August 18-20 in Augusta, Georgia. The Statesboro chapter was chosen from among the 18 other Georgia State SHRM chapters including Metro Atlanta, Columbus, Augusta, Macon, and Savannah.
In addition, the Georgia Southern University SHRM chapter was chosen as the runner up for "College Chapter of the Year." "We are absolutely delighted to accept this honor" said chapter President Curtis Woody. "We are a small but growing chapter and this is nothing if not a testimony to the hard work put in by our volunteer board and by all of our chapter members. Our organization's mission is to be the area's premiere authority on people management issues. This award goes a long way towards validating our work towards this objective." The Statesboro Area SHRM chapter meets on the third Wednesday of each month from 11:30 am to 1:00 pm. A detailed schedule of each meeting is available on the organization's website at statesboroarea.shrm.org.
Statesboro Area SHRM is the area's premiere authority of people management issues and is an affiliate of the Society for Human Resource Management (SHRM). Founded in 1948, the Society for Human Resource Management is the world's largest HR membership organization devoted to human resource management. Representing more than 275,000 members in over 160 countries, the Society is the leading provider of resources to serve the needs of HR professionals and advance the professional practice of human resource management. SHRM has more than 575 affiliated chapters within the United States and subsidiary offices in China, India and United Arab Emirates.
We are an affiliate of the Society for Human Resource Management. Whether you are new to the HR field or have many years of experience, we are a local starting point for networking, information, professional development and continued support of excellence in Human Resources.
Why Join a Local SHRM Chapter?
We welcome your use of this site as a resource, and encourage you to check back frequently for updated information. We also encourage your involvement and suggestions about all of our activities, on the web and off.
Upcoming Events
See All >
August 16, 2017 -

11:30am

to

1:00pm

September 20, 2017 -

11:30am

to

1:00pm

September 22, 2017 -

8:30am

to

3:30pm

Location:

Nessmith-Lane Conference Center 847 Plant Drive Statesboro, GA. 30458

 

CONFERENCE SPEAKER UPDATE - CASEY CAGLE, LT. GOVERNOR, STATE OF GEORGIA;  BEN HAMES, DEPUTY DIRECTOR, WORKFORCE DIVISION, GEORGIA DEPARTMENT OF ECONOMIC...
From our Blog
See All >
Please join me in welcoming our new Board/CLA leadership team members for 2017! They will officially take office and be sworn in at our first chapter meeting in January 2017. The current President and Board will continue to conduct the affairs of the chapter until Dec. 31, 2016. The individuals who...

The Highlights   A productive meeting On October 19, 2016 sponsored by East Georgia Regional Medical Center whose Chief Executive Officer Paul Theriot welcomed the Statesboro Area SHRM. The guest speaker Sarah Lamar elaborated on the increased reach of the NLRB in 2016 and 2017. More importantly...

Despite the speaker cancellation at the last minute the meeting turned out to be a networking success!       Reuniting old alumni of Webster University to counting down to the end of the year objectives and the up and coming Board of Directors elections.   Not to mention, I...
Thank you for visiting the
Statesboro Area SHRM Chapter
an affiliate of the
Society for Human Resource Management
serving Statesboro, Swainsboro, Vidalia, and the surrounding areas
We are glad that you have decided to visit our website.
Check back periodically for updates regarding upcoming meetings & events.