Welcome to the Statesboro Area
Society For Human Resource Management
2016 Chapter of the Year
SA-SHRM Awarded "Best Project of the Year"
for 2017 Workforce Readiness Conference
by SHRM Georgia State Council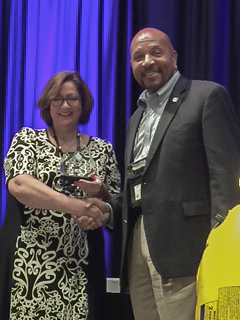 Workforce Readiness Conference Featured in
HR Professionals Magazine
Story Link Below:
https://hrprofessionalsmagazine.us5.list-manage.com/track/click?u=746926c0a351a78a7c0c142e5&id=792d2b09a5&e=f985dd2d05
Why Join a Local SHRM Chapter?
We welcome your use of this site as a resource, and encourage you to check back frequently for updated information. We also encourage your involvement and suggestions about all of our activities, on the web and off.
From our Blog
See All >
Please join me in welcoming our new Board/CLA leadership team members for 2017! They will officially take office and be sworn in at our first chapter meeting in January 2017. The current President and Board will continue to conduct the affairs of the chapter until Dec. 31, 2016. The individuals who...

The Highlights   A productive meeting On October 19, 2016 sponsored by East Georgia Regional Medical Center whose Chief Executive Officer Paul Theriot welcomed the Statesboro Area SHRM. The guest speaker Sarah Lamar elaborated on the increased reach of the NLRB in 2016 and 2017. More importantly...

Despite the speaker cancellation at the last minute the meeting turned out to be a networking success!       Reuniting old alumni of Webster University to counting down to the end of the year objectives and the up and coming Board of Directors elections.   Not to mention, I...
Thank you for visiting the
Statesboro Area SHRM Chapter
an affiliate of the
Society for Human Resource Management
serving Statesboro, Swainsboro, Vidalia, and the surrounding areas
We are glad that you have decided to visit our website.
Check back periodically for updates regarding upcoming meetings & events.